Camden Lock Market filming 'refusal' over gunshot scene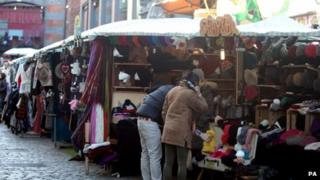 Market officials in north-west London turned down a BBC request to film a drama over fears it could scare young visitors if they saw people with guns.
Camden Lock Market rejected an application to film part of the crime-thriller The Interceptors there.
Jackie Clode-Dickens, from the market, said: "We have lots of school groups who might find it frightening and not understand if they see guns."
The Canal and River Trust has given consent to film at Regent's Canal.
FilmFixer which manages filming on behalf of Camden Council said it had also agreed filming could take place at Inverness Street Market.
Ms Clode-Dickens said: "There was going to be a gunshot in the market and we discussed it as a business and said the content is not something we want here.
"We do put ourselves forward as a place people can be safe and it would be irresponsible to then advocate it as a crime hotspot."
The BBC confirmed Camden Lock Market was one of a number of locations considered for the series, but could not comment further.
FilmFixer said during filming it had negotiated that no guns would be fired and instead sound effects would be added in post-production and temporary walls would be set-up closing the set to the public.
It added: "The scene would act as a positive showcase for London."
David Gyasi and Trevor Eve will star in the eight-part series about a top secret, law enforcement team which hunts down some of Britain's most dangerous criminals.
Filming is currently postponed while Gyasi recovers from an injury, but it is scheduled to be broadcast this autumn on BBC One.