PC Blakelock 'attacked in stabbing motion by Nicholas Jacobs'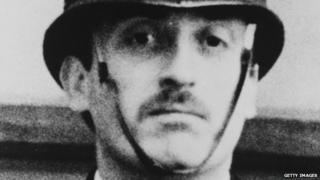 The man accused of murdering PC Keith Blakelock in 1985 attacked him in a "stabbing motion", an anonymous witness has told the Old Bailey.
The witness, known as Q, said he took no part in the mob violence against the police officer during the riots in Tottenham, north London.
But he said he saw Nicholas Jacobs, 45, make a stabbing motion "once."
Mr Jacobs denies murdering the policeman, who was repeatedly stabbed, the court has heard.
Witness Q, who said he had known Mr Jacobs all his life, said he only came forward to give his account of the murder in July 2009 after police put a card through his door.
He told the jury there was an "eerie" and "quite hostile" atmosphere on the Broadwater Farm estate, where he lived, in the weeks before the riots.
He said the night of the riots was "barbaric", adding: "I saw rocks and petrol bombs being thrown, cars being set on fire."
The attack on PC Blakelock happened "within seconds", he said, adding: "I saw there was a metal bar used, knives like a machete-type thing and one looking like a sword.
"I was 12 feet away when I seen this, that's how I knew the policeman was dead," he said.
He said he was close enough to see the police officer's feet move and then go "still".
On Mr Jacobs' involvement, the witness said: "There were about eight or so. He had a tool and he was using it in a stabbing motion on the policeman."
"Who actually killed the poor chap is anybody's business," he added. "I'm only just saying what I seen."
Asked how many times Mr Jacobs made the stabbing motion, Q replied: "Once."
During cross-examination by Courtenay Griffiths QC, Q confirmed he was a drink and drug user, having started with cannabis and gone on to heroin.
But the witness, who was unemployed at the time of the murder, denied the suggestion he was a "fantasist" or suffered from "delusions".
The case continues.