Met Police chief backs 50:50 recruitment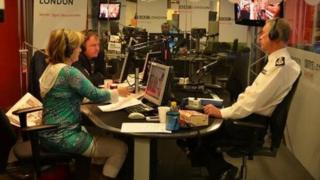 The head of the Met Police has said he supports a 50:50 recruitment process to increase the number of ethnic minorities in the force.
Sir Bernard Hogan-Howe has suggested the Met should adopt a similar system to the previous recruitment of Catholics and Protestants for the PSNI.
Speaking to BBC London 94.9, Sir Bernard said: "I think that 50:50 for a short time, would be a good idea."
He added more work was needed to get the Met Police "looking like London".
"I would argue, say for five years, make it 50:50 because sadly, even though we are recruiting now and we're doing well, and I think about one in five of our recruits will be from a minority," said Sir Bernard. "But at that rate we won't get there and I think that 50/50 for a short time, would be a good idea."
When asked if this amounted to positive discrimination, Sir Bernard replied: "It wasn't in Northern Ireland and I see no reason why it should be on the mainland".
'Widespread trust'
In a new BBC poll, four out of five Londoners said they believed it was important that the Met police reflected the ethnic make-up of the capital.
The poll conducted for BBC London questioned 1,000 people in London in June last year and in March this year about their perceptions of the Met Police.
The survey revealed that trust in the Met Police had continued to remain widespread, but the levels of trust had fallen slightly from 85% in June last year to 81% in March this year.
In addition 74% of the people polled said the use of stop and search by police was an effective way of reducing crime, but 51% said the practice unfairly targeted black men.
The poll was conducted by ComRes who interviewed 1,000 adults in London by telephone between 12-16 March, the data was weighted to be representative of all adults in London over the age of 18.
'Constant sniping'
Earlier this month, Sir Bernard said he would hold an inquiry into the Met's "standards, governance and culture" after a review into the Stephen Lawrence murder investigation by Mark Ellison QC found officers spied on the family of the murdered black teenager and that some documents had been subject to a "mass shredding".
In 1999, a report by Sir William Macpherson into Stephen Lawrence's murder branded the Met Police "institutionally racist".
Speaking at a meeting of the Police and Crime Committee at the London Assembly on Thursday, the Mayor of London, Boris Johnson, said the force needed to get to the bottom of what happened to Stephen Lawrence's family, but he argued there was a "sensible purpose" for undercover policing.
When questioned by committee members about why he was being defensive, Mr Johnson replied: "What I find disgraceful is the constant sniping and slurring to members of the Metropolitan Police who are doing a fantastic job and bringing down crime."
He said he was satisfied with "systems in place" that authorised and monitored undercover operations.
Do You Trust the Police? will be broadcast on BBC One London at 19:30 GMT on 28 March.