Mohamed Abdullahi murder: Men given life sentences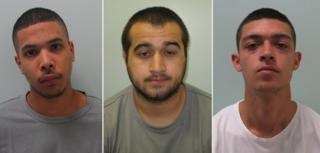 Three men have been given life sentences for the revenge killing of a man stabbed to death in north London.
Mohamed Abdullahi, 20, was stabbed in Holloway in June. The Old Bailey heard the defendants thought he had been involved in an earlier shooting.
Dean Winston, 19, of Torriano Avenue, Kentish Town, and Calvin Jerelle Collins, 19, of Bloomsbury Street must serve a minimum of 24 years.
Kyle Sober-Froud, 19, of Bloomsbury, will serve 23 years and six months.
The court heard the three men stabbed Abdullahi, of Kentish Town, after believing he had carried out a shooting at Winston's house about three hours before.
Nobody was injured and there was no evidence linking Mr Abdullahi to the shooting.
Det Insp Jamie Stevenson said: "Mohammed's murder has devastated his family who are struggling to cope with his death.
"They have always insisted that they want only justice and not revenge for the people responsible for his murder. Today's convictions have given them this."
A fourth man, Kryiacos Phantis, 55 of Carleton Road, north London, was arrested and charged with assisting an offender in relation to Mr Abdullahi's murder.
He was on bail to appear at the Old Bailey but failed to turn up for the trial.
A warrant has been issued to locate and arrest him.