Missing son mistakenly reported on plane after death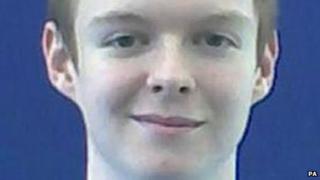 The family of a student who went missing in London were mistakenly told he had boarded his plane back to Ireland, an inquest has heard.
Patrick Halpin, 18, was found dead two days after falling from the roof of a Burger King during a night out in Leicester Square.
Police were told he had boarded his plane at Gatwick after receiving incorrect information from his airline.
An inquest found Mr Halpin died accidentally.
The inquest heard that Mr Halpin, from Loughrea, County Galway, was "not excessively drunk" and was found to have only half the legal limit of alcohol for driving in his system.
Coroner Angela Hodes described him as a "tremendous sportsman" who was not used to drinking large amounts of alcohol, which the inquest heard may led him to be affected by what he had drunk.
Ms Hodes told the inquest at Westminster Coroners' Court that CCTV footage showed Mr Halpin at the Zoo Bar on 4 February "politely bumping" into people.
She said he was told to get some food to sober up, and CCTV footage later showed him walking into a nearby Burger King, going through a staff door, up stairs and on to the roof.
The inquest heard that his body was found on a lower section of the roof.
'Cruel twist'
In order to reach the area he fell from he would have had to walk several metres to a barrier, slide down a slope and climb down waste pipes or a chimney.
A post-mortem examination concluded he died of severe brain injuries as a result of falling from height.
Mr Halpin, who was visiting London on a trip with Dublin City University, was found after a missing person's inquiry and police analysis of CCTV footage.
Ms Hodes said it was a "cruel twist" that his worried family were mistakenly told by a police officer that he had boarded his flight home.
She told the inquest: "The information that was given to Det Sgt Paul Stephens was incorrect, leading to him erroneously informing the family that Mr Halpin had checked on to his flight.
"This court will be writing to the relevant agencies to see what they can do about their procedures."
In a statement, Mr Halpin's family praised the role of social media in raising awareness of his disappearance, describing the response as "amazing".
The family thanked police for working "tirelessly", and said the teenager would be "sadly missed".