Protest over Enfield A-level student's removal from UK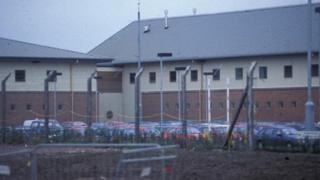 Friends and teachers of an A-level student due to be removed to Mauritius without her family have held a protest in Parliament Square.
Yashika Bageerathi, 19, from Enfield has been given plane tickets by the Home Office and told to leave or "removal may be enforced".
Demonstrators, including headteacher Lynne Dawes, met in Parliament Square.
Ms Dawes said she found the Home Office's decision to remove Ms Bageerathi "unbelievable".
'Belongs in London'
The Oasis Academy Hadley headteacher said they were calling on the government to allow the teenager to at least stay and finish her A-levels.
She told BBC News: "We hope Theresa May and the Home Office will listen to us and do something to help.
"Yashika has nowhere to go when she gets there and all these students feel she belongs in London."
Ms Dawes said Ms Bageerathi had originally been given tickets to return to Mauritius on a British Airways flight but the airline had refused to take her.
She has since been issued with tickets for an Air Mauritius flight due to leave on Sunday.
Yashika's best friend Courage Emeka, 17, of Barnet, said: "I spoke to Yashika last night, she's calmed down a lot. She was really upset last week and frightened, but she's calmer now."
A Home Office spokesperson said: "We consider every claim for asylum on its individual merits and in this case the applicant was not considered to be in need of protection.
"This case has gone through the proper legal process and our decision has been supported by the courts."
Ms Bageerathi came to the UK with her mother, sister and brother in 2011.
The family left Mauritius to escape a relative who was physically abusive and claimed asylum in the summer of 2013.
All four now face removal.
Ms Bageerathi is currently in Yarl's Wood Immigration Removal Centre where she has been since 19 March.
Students from Ms Bageerathi's school have also started a petition calling on Immigration Minister James Brokenshire and Theresa May to stop the removal.
It has so far collected more than 140,000 signatures.