Police radio messages of PC Blakelock's riot injuries played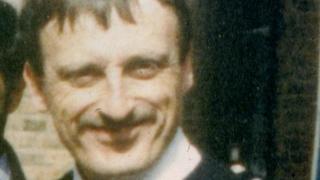 Police radio messages from riots in 1985, in which an officer said PC Keith Blakelock had "a knife in the back of his head", have been heard in court.
The most senior officer there was heard saying the PC had stopped breathing and police were trying to resuscitate him.
The attack on PC Blakelock happened on 6 October 1985 when police went to help firefighters putting out a blaze in the Broadwater Farm estate in Tottenham.
Nicholas Jacobs, 45, denies murdering the 40-year-old officer.
The Old Bailey jury was told PC Blakelock and officers in his unit had at first "contained" the situation but when they went into one of the buildings to assist firefighters they came under attack from a mob of more than 100 people wielding "knives and machetes".
'Stopped breathing'
The recordings played featured confused messages from officers calling for "urgent assistance", before one officer is heard saying: "We have a PC who I think is dead, can we get an ambulance?"
Giving an update on the PC's condition Chief Superintendent Colin Couch, who was the most senior officer at the scene, was heard saying: "Severe head injuries, stopped breathing.
"It is very serious, the PC situation here. Having tried to make him go back to breathing we now have a knife in the back of his head."
When asked for more details he could be heard saying: "Standby, we're doing resuscitation.
"I'm afraid to be rather vague but he's thought to be 718 Blakelock from Muswell Hill but, regretfully, as you can imagine, the numbers are a little bit confused at the moment.
"I'm relying on other officers that knew him but we do have three officers from this unit that's gone to hospital, one very seriously."
Previously the trial heard PC Blakelock had suffered 43 stab wounds from different weapons, including a knife lodged in his neck, and the most devastating wound was to the side of his face, caused by a machete or an axe.
The case continues.