Met Police 'should not be involved in Daniel Morgan axe death probe'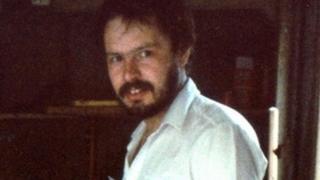 The brother of a private investigator found dead outside a London pub in 1987 has said the Metropolitan Police should not be involved in any new inquiry.
Daniel Morgan, 37, from Llanfrechfa, Torfaen, was found with an axe in his head in a pub car park in Sydenham.
Alastair Morgan said the case needed scrutiny - but not by the Met.
"I am very worried about this because the Met's handling of the case has been so appalling at times in the past," he told BBC Radio 4's Today programme.
His comments come after Met Commissioner Sir Bernard Hogan-Howe last month indicated the investigation could be reopened.
Mr Morgan said the family had written to the force twice since then asking for details, but had received "no reply whatsoever to our letters".
'Tainted by corruption'
Regarding Mr Morgan's letter saying the family wants independent scrutiny of the case, the Met said it had received the letter, which was being fully considered, and the force would respond "as soon as practicable".
Mr Morgan told Today he believes the force is still covering up certain aspects of the murder.
An independent panel is reviewing, among other issues, how police corruption affected the handling of the murder inquiry.
"I think it's essential we have public scrutiny of it now - 27 years have passed, five investigations and it needs public scrutiny," Mr Morgan said.
"It doesn't need the Met putting their hands upon this case any more."
Mr Morgan said he was not satisfied with a previous admission the first investigation into the murder was "tainted by corruption", adding that police conduct during the series of investigations needed to be looked at.