Will pollution warnings shift political policy?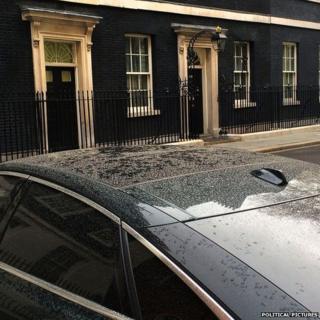 I've covered London's scandalous poor air quality for years and over that time not much has changed.
In 2008 I wrote: "For those who suffer from pollution. More action's needed... quickly ". That hasn't happened.
I've always been amazed how widely poor air quality is accepted as being part of living in a city - and how little coverage it gets.
We have a Low Emission Zone (LEZ) now, and proposals for an Ultra Low Emission Zone in which older cabs have been banned.
We have seen trials of green walls and dust suppressants come and go, with mixed success and we have constantly seen the threat of European fines, but the reality is the scandal of poor air quality is still there and it is not even disputed.
In 2010 in the mayor's air quality strategy he says 4,300 deaths per year in London are partly caused by poor air quality.
This week Saharan dust caught everyone's attention, in part because everyone could see it, while its arrival also coincided with a change in who did the pollution warnings.
Unprecedented levels
The Met Office took over pollution forecasts on 1 April. They have a huge influence over broadcasters as a data provider and suddenly it was all over our screens.
Compare that to the high pollution readings just two weeks ago which got very little coverage.
In fact according to King's College - the leading authority on London's poor air quality - in 2013 there were seven episodes of High or Very High levels of pollution and in 2012 there were 11 - all pretty much unreported.
Timothy Baker, of King's College London, told The Independent: "The Met Office has taken over and been leading its TV weather forecasts with pollution. Overnight this has pushed public awareness of pollution up to unprecedented levels - the only time it came close was in the 2003 heat wave."
Another point is that air quality campaigners also say the Saharan dust is a red herring and actually most of the pollution during the episode was man-made.
They're quoting sources that say just 5% of the pollution actually came from the Saharan dust itself. The official scientific breakdown of the dust's contribution will take longer to emerge.
'Natural phenomenon'
Environmental lawyers Client Earth though said: "The prime minister's remarks that the smog is a 'natural phenomenon' was at best shamefully ignorant, at worst downright dishonest.
"The smog that is choking large swathes of the country is the result of man-made pollution, much of it home-grown traffic fumes."
The lawyers added: "Having already been found by the Supreme Court to have failed to protect us from harmful air pollution, the very least our government can do is be honest about the problem so we can take steps to protect ourselves and our families.
"Instead of making excuses, we need a plan to rid our towns and cities of diesel fumes. Boris's idea of an ultra low emission zone is the way forward but it needs to be bigger and happen sooner. Downing Street must back Boris on this one."
There are now whispers of a similar campaign to that of the cyclists during the last mayoral elections. The cycling lobby, with help from The Times, obtained policy change and segregated lanes by getting all the candidates to back their plan.
Clean air campaigners certainly hope this dust is a game changer and has raised the profile of poor air quality.
Whether it leads to changes in government and mayoral policy now depends on political will and a considerable financial outlay to speed up the shift away from polluting vehicles. Will it happen?