Mafia fugitive Domenico Rancadore released on bail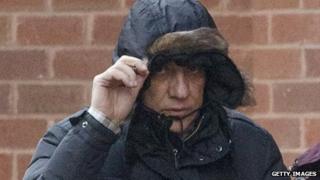 A man convicted of links with the Mafia in Italy has been released on bail after being rearrested.
Domenico Rancadore, 65, was detained in west London on Friday after a fresh European Arrest Warrant was received from Italy.
He was allowed to stay in the UK after winning a first extradition battle last month following a similar warrant.
A Westminster Magistrates' Court judge has now granted him bail to appear at the same court on 28 May.
Rancadore, also known as The Professor, is described by the new arrest warrant as being "one of the heads of one of the most powerful Mafia organisations in Italy".
It adds he has an outstanding sentence of seven years to serve for "participation in Mafia association" between 1987 and 1995 in Palermo, Sicily.
Arrest like 'ambush'
Rancadore, who evaded authorities for 20 years and lived in Uxbridge as Marc Skinner with his family, was first arrested last August under a European Arrest Warrant.
Rancadore's barrister, Alun Jones QC, described his arrest on Friday night as an "ambush".
"That can only have been deliberate and can only have been done to embarrass the defendant," he said.
He was refused bail in court on Saturday, which was an abuse of process, the lawyer said.
Prison conditions assurances
But prosecutor Adam Harbinson denied officials had done anything inappropriate, saying: "There was an attempt to have the warrant reissued.
"As soon as it was reissued it was certified by the National Crime Agency and Rancadore was rearrested."
Mr Harbinson added the new warrant was similar to the first but it also addressed concerns over conditions in Italian prisons, highlighted during the first extradition case.
Rancadore was released on £20,000 conditional bail as the judge said he was a low risk of absconding, but he must wear an electronic tag and not go outside the M25.
In March, Rancadore won a fight against extradition to Italy, when a judge ruled prison conditions there would breach his human rights and days later he was told he would not face an appeal because the Crown Prosecution Service had missed a deadline to lodge the appeal.