Brixton police gun victim Cherry Groce's family in legal aid win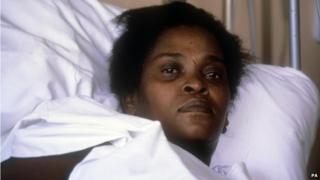 The family of a woman shot by police in London will get legal aid to fund lawyers at her inquest after ministers overturned a previous decision.
Cherry Groce was paralysed below the waist when she was shot by police in 1985, leading to riots in Brixton.
Mrs Groce died in April 2011, having spent 26 years in a wheelchair.
Her family launched a petition backed by 130,000 people after the Legal Aid Agency (LAA) rejected the funding bid.
Mrs Groce's son Lee Lawrence said: "This was a matter of justice my mum and for our family."
Mrs Groce was accidentally shot by police, who were seeking her son Michael, during an early morning raid on her home.
The LAA had initially denied funding for representation at the inquest, but the case was referred to ministers after a campaign by her family and Labour MP for Streatham Chuka Umunna.
'The right decision'
Dozens of civilians and 10 police officers were injured in the unrest in Brixton, south London, following the shooting.
It came days before the Broadwater Farm riots in Tottenham after another black woman, Cynthia Jarrett, collapsed with a stroke following a police raid at her home.
A Ministry of Justice spokesman said: "Having considered the request of the Legal Aid Agency, ministers have decided to authorise funding for this case.
"We hope that this legal representation will help her family and those who knew Ms Groce find out more about the circumstances leading to her death."
Following the decision, Mr Umunna said: "It is the right decision and what the community wanted.
"The idea the different police agencies be represented at our expense at Cherry Groce's inquest but not the family was totally unacceptable."
Thanking those who backed the campaign Mr Lawrence, who was 11 at the time of the shooting, said: "We're delighted that the MoJ has seen sense on this issue.
"Now we can go to her inquest properly represented and equipped to get to the truth and get some closure on this injustice that we have carried with us for 30 years."
The inquest is due to take place in June.