Four jailed after innocent man shot in Turkish gang feud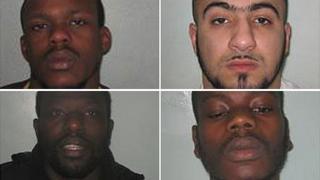 Four people have been jailed for the murder of an innocent man caught up in a gang feud in east London.
Cem Duzgan, 21, of Islington, was shot 11 times at the Clapton FC Club, a Turkish social club on Upper Clapton Road in Hackney in October 2009.
The gunman, Blaize Lunkula, 28, was jailed for life for at least 35 years.
Three other men - Yusuf Arslan, 24, Ndombasi Makusu, 27, and Christian Barabutu, 22, were sentenced at the Old Bailey after being convicted of murder.
Arslan was jailed for 33 years, Makusu was given at least 28 years while Barabutu, 22, who was 17 years old at the time of the shooting, was detained for a minimum of 18 years.
'Bloodthirsty feud'
Police said ballistics experts estimated that the gun used on the victim, who was shot through the head, torso, arms and legs, was within a foot of his head when it was fired.
Sentencing the killers, His Honour Judge Anthony Morris QC said Mr Duzgan was "truly in the wrong place at the wrong time", and was caught up in a "blood-thirsty feud between two drug gangs operating in north London."
The Metropolitan Police said the murder was part of a "spate of violent tit-for-tat incidents" between the Tottenham Turks and the Hackney Turks gangs in 2009.
The first two shootings had targeted the Tottenham Turks, which prompted fellow gang members to then hold a "Council of War" at the Pound Shop on Tottenham High Road to avenge the deaths in a third hit in which the victim was killed.
The prosecution said Mr Duzgan, a clothes shop sales assistant who worked in Croydon, was not the intended victim but "became unwittingly caught up in a bitter and violent rivalry". He was killed after going to investigate a disturbance at the entrance of the Clapton FC club.
Det Insp Simon Ashwin said: "This will send a clear message that the streets of London cannot be ruled by fear and violence and that those who commit such offences and hide behind gangs will be brought to justice."