Three men convicted of schoolboy Ajmol Alom's murder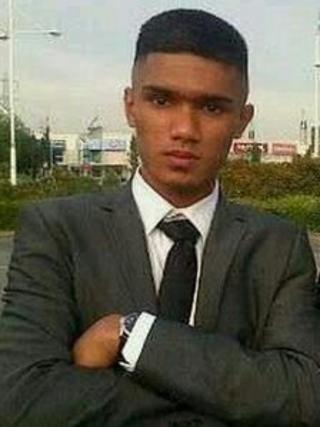 Three men have been found guilty of the murder of a 16-year-old boy who was stabbed to death in east London in an "unprovoked attack".
Ajmol Alom, 16, was killed in August last year after he and his friends were approached by a masked gang and stabbed in the thigh in Spey Street, Poplar.
Aminur Nadir Khan, 19, Mashudur Rahman, 22, and Ali Akbar Choudhury, 20, all from east London, were convicted of murder at Snaresbrook Crown Court.
The trio will be sentenced on 2 May.
Khan, of Robin Hood Gardens, Rahman, of Victoria Street in Stratford, and Choudhury, from John Street Mews in Tower Hamlets, were also found guilty of grievous bodily harm with intent of Azime Rob, a friend of the victim.
'Brightest prospects'
Ajmol, 16, was "one of our brightest prospects", his headmaster Chris Dunne at Langdon Park School in Poplar said following his death.
The teenager achieved eight grade As in subjects including English literature, maths, science and geography, and three B grades.
"Our school, our community, our country has just lost one of its brightest prospects and we are all rightly shocked and depressed by it," his headmaster said.
Ajmol and Azime and a group of friends were approached by four men wearing hoods and scarves and attacked, police said.
Azime was stabbed in the face through his cheek before Ajmol was fatally stabbed in the thigh.
A fourth man, Muhammod Malik, 21, also of John Smith Mews, was found not guilty on all counts.
Det Insp Julie Willats said: "Ajmol was an innocent teenager enjoying a summer evening with his friend Azime and others when they were targeted in an unprovoked attack by a group of young men with knives.
"This incident highlights the misery that knife crime causes. I hope the verdict acts as a deterrent to those who carry or use knives or associate with others who do so."
Following the verdict, a statement from the Alom family thanked the local community for coming forward with information and added: "Ajmol was a part of us and had his whole life ahead of him.
"We can only hope that other young people turn away from violence and knife crime when they reflect on today's verdict."