Hackney teenager dies in Costa Rica on a climbing expedition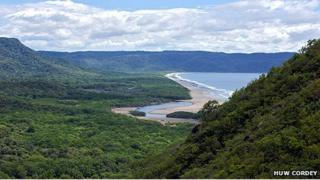 The parents of a teenager from Hackney who died whilst climbing in Costa Rica have paid tribute to him saying he died doing what he loved.
Lucas Drummond, 16, was fatally injured in a fall during a climbing expedition in the Santa Ana region.
The experienced climber was leading a small group from his school the United World College of Costa Rica.
His parents said their son was "full of energy", with "so many ideas of how to change the world for a better place".
Repatriate body
In a statement released on Friday Carol and John Drummond said: "We are devastated by the loss of our son Lucas, who was a devoted and loving brother and son to us and friend to so many.
"He was given the opportunity to study abroad in a multicultural international school with an ethos of being able to help others while learning about themselves.
"This was like a dream come true for Lucas and an opportunity to help develop his lively mind and his spirit for adventure which was a strong part of his being. He died doing what he loved."
The incident is thought to have happened on 4 April.
Mr and Mrs Drummond are believed to have flown to the country during the week to repatriate their son's body.
A spokesman for the Foreign Office said: "The Foreign Office is aware of the death of a British national in Costa Rica and is providing consular support."