Man jailed for life for partner's murder in Walworth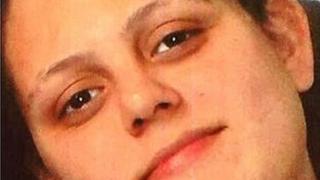 A man who attacked the mother of his four children with a hammer and then set her on fire has been jailed for life by a judge at the Old Bailey.
Julie Beattie, 24, died from severe burns at her home in Walworth, south-east London, on 19 July last year.
She suffered a "horrific death" at the hands of groundsman Ashley Williams, 49, who was said to have killed her because she planned to leave him.
He was found guilty of murder and sentenced to a minimum of 25 years
'Extraordinarily cruel'
Police said the pair had been in a relationship since she was 16.
Williams attacked her with a hammer before dousing her in fuel in the kitchen of their home after learning she was planning to leave him, the Metropolitan Police said.
Det Insp Sharon Marman said: "Julie Beattie suffered a horrific death at the hands of Williams which was an extraordinarily cruel and violent act.
"Through his actions Williams has deprived his children of their mother and he will have to live with this for the rest of his life."