Female genital mutilation accused men in court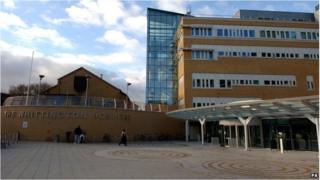 The first people to be charged in the UK over female genital mutilation (FGM) have appeared in court.
Dr Dhanuson Dharmasena, 31, of Ilford, east London, and Hasan Mohammed, 40, of Holloway, north London, appeared before Westminster magistrates.
Mr Mohammed is charged with encouraging the doctor to repair a pre-existing FGM on a patient at Whittington Hospital after she gave birth there.
The alleged offences are said to have happened in November 2012.
The men will next appear at Southwark Crown Court on 2 May. Both have been released on unconditional bail.
The defendants' lawyers indicated in court that the pair would plead not guilty.
The men were charged under the Female Genital Mutilation Act 2003.
FGM includes procedures that alter or injure female genital organs for non-medical reasons.
Dangers include severe bleeding, problems urinating, infections, infertility, complications in childbirth and increased risk of death for newborns.