New London Zoo triplet tiger cubs in 'rude health'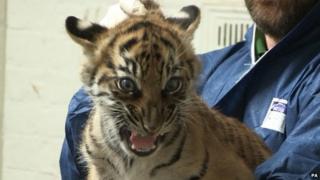 Six months after a rare tiger cub died, London Zoo's new triplet cubs have been given a clean bill of health.
The Sumatran tigers born in February were examined, sexed, vaccinated and micro-chipped.
They were born in February to five-year-old Sumatran tigress Melati whose last cub - the first tiger to be born at London Zoo in 17 years - was found drowned aged four weeks.
Nic Masters, head vet at London Zoo, said they were in "rude health".
The triplets, born after a 106-day gestation, were found to be two males and a female.
A critically endangered species, there are estimated to be only 300 individual wild Sumatran tigers in the world.
The last cub died in a pool inside its mother's enclosure in October last year.