Heathrow Terminal 2 Slipstream sculpture unveiled at airport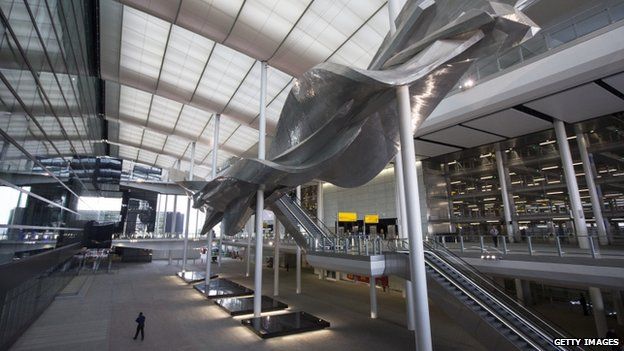 Heathrow Airport is gearing towards the opening of its new Terminal 2 by unveiling Europe's largest privately funded sculpture.
Slipstream appears like a jet's vapour trail and is suspended 18m (60ft) above the ground of the £2.5bn terminal.
The sculpture is 78m (260ft) long, weighs 77 tonnes and consists of 23 bespoke pieces.
An estimated 20 million passengers a year will pass underneath the artwork as they head to catch their flights.
It was designed by British artist Richard Wilson (below left) and incorporated into the terminal's design by lead architect Luis Vidal.
Built at his workshop in Hull, it is made up of nearly 500,000 components which were precision-cut into different layers before being covered in aluminium.
Also known as the Queen's Terminal, Terminal 2 is set to open for business on 4 June, 59 years after the original terminal was opened.
More than 20 airlines and 25,000 staff will operate out of T2.
The terminal replaces the old T2 which was demolished in 2009.
Related Internet Links
The BBC is not responsible for the content of external sites.