HGV blind-spot technology to be tested in London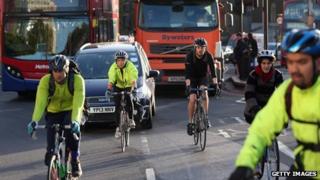 Blind-spot technology is to be tested on London's roads in a bid to reduce the number of cyclists and pedestrians killed by Heavy Goods Vehicles (HGVs).
Transport for London (TfL) is funding the research which will test how effective each product is when fitted to HGVs.
The best products will then appear on an accredited list on its website.
British Cycling said it was a "fantastic" initiative but more needed to be done.
The Transport Research Laboratory will evaluate the technology including camera monitoring systems, radar detection systems and sensors fitted to HGVs.
'Good investment'
The tests will consider the practicality of the equipment, such as whether it can survive a car wash, the distance from which objects can be detected, how easily it detects road users and its reliability.
Leon Daniels from TfL, said: "With technology moving so quickly, it is important that companies know that any safety equipment they invest in not only offers value for money, but does what it says on the tin."
Once completed, the research will be made available to download from the TfL website.
But Martin Key British Cycling said: "It is fantastic to see Transport for London taking the initiative to test blind-spot technology.
"However, there is only so far that technology can go to make up for ill-designed and dangerous vehicles.
"What would really make a difference on Britain's roads would be to bring in a requirement for all lorry cabs to be designed so that drivers can have a direct view of cyclists from their cabs."
TfL said any firms which wanted its equipment considered for testing should email freight@tfl.gov.uk.
This summer trials of radar-based technologies fitted to London Buses will also be held.
In addition, the Mayor of London, TfL and London Councils are proposing a Safer Lorry Scheme, which will require every vehicle in London over 3.5 tonnes to be fitted with side guards to protect cyclists from falling under the wheels.