Jamaican sister arrives in London to donate kidney to brother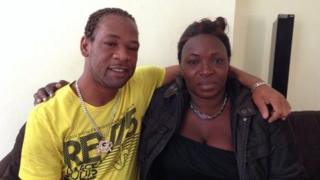 A woman who was initially denied entry into the UK has arrived in London to donate a kidney to her brother.
The Home Office originally refused Keisha Rushton a visa to help her Hackney-based brother Oliver Cameron, but later reversed its decision.
Arriving in the UK on Saturday, Ms Rushton said: "I am happy I've got the opportunity, after all the struggle, to save my brother's life."
Mr Cameron has kidney failure and undergoes dialysis three times a day.
The pair have their first hospital appointment on 30 April.
'It's a joy'
Described as a "perfect match", Ms Rushton said: "I love life and I love my brother and I'm giving him life."
But Ms Rushton said that when she was originally denied a visa she was "devastated".
"I went back home and I was angry for weeks. I didn't want to talk to my brother because I didn't want to displace my anger to him," she said.
Ms Rushton's application had been refused on the grounds that she may not return to Jamaica after the operation, but the mother of seven said she had no intention of staying in the UK.
Mr Cameron, who is a British citizen, said: "I'm happy because I never gave up.
"I couldn't wait to see my sister when she arrived yesterday. I can't explain how excited we are. It's a joy."