London Underground 48-hour Tube strike gets under way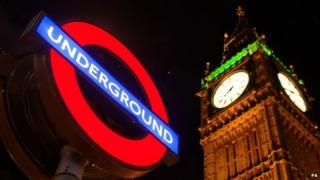 A 48-hour Tube strike has started after talks broke down between London Underground and the Rail, Maritime and Transport (RMT) union earlier.
The industrial action is over plans to close ticket offices and cut 960 jobs.
The strike started at 21:00 BST and will end at 20:59 on Wednesday. It is thought disruption could continue until Thursday morning.
The conciliation service Acas said its "services remain available" to both parties.
The union and LU have met more than 40 times through Acas since the last 48-hour strike in February, but LU left the last-ditch talks this morning.
On Tuesday and Wednesday, where services can be operated, trains will run from 07:00 BST or as soon as possible after that.
Services are expected to conclude at about 23:00 BST, with no service beyond that, but the last services from central London may depart much earlier, at about 21:30 BST.
Transport for London has issued a document of travel advice to customers.
It has said it plans to run as many services as possible with extra bus and river services, but customers are advised to check their journey before they travel.
The following services are expected to run less frequently and with some stations excluded:
Downing Street said that the prime minister believed the strike was "unjustified".
"It is wrong because of the disruption that it will bring to the lives of so many Londoners in the next few days," David Cameron's official spokesman said.
But Mick Cash, the RMT's acting general secretary, said: "London Underground have dug themselves into an entrenched position and have refused to move one inch from their stance of closing every ticket office, in breach of the agreement reached previously through Acas which enabled us to suspend the previous round of action.
"Elected members of the Greater London Authority have called for a public consultation on these cuts and the future of the Tube. RMT agrees with that."
Mr Cash said the union remained available for serious and meaningful talks about its alternative proposals.
Mayor of London Boris Johnson, called the strike "pointless".
He said: "More than 600 people have asked for voluntary redundancy and yet, without consulting any of their own members, the RMT is suddenly insisting that London Underground halt this process.
"Commuters and businesses will suffer because a few narrow-minded union barons are currently flexing their muscles in a fight for the leadership of a union where just 30% of members support a strike."
LU has said concessions had already been made, including a promise that a supervisor would work out of every station, rather than one worker overseeing up to five stations.
There would be no compulsory redundancies, it added.
The strike is likely to hit university students taking degree exams. On its website, King's College London says it is aware of students' concerns and will review the impact of strike action.
Football fans travelling to Arsenal's game with Newcastle and Chelsea's Champions League match with Atletico Madrid on Wednesday will also be affected.
Arsenal FC advised fans there were unlikely to be any Tube services after the game and that First Capital Connect trains from Finsbury Park would be much busier than usual.
The RMT is also holding a 48-hour strike from 03:00 BST on Tuesday on the Heathrow Express in a separate row over jobs, pay and cuts.
A second strike, for 72 hours, is also scheduled to start from 21:00 BST on Monday 5 May, if the ticket office dispute is not resolved.