Tube strike: Commuters suffer 'severe disruption'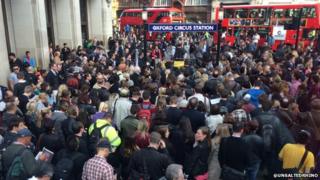 Commuters travelling in London are experiencing "severe disruption" as Tube workers strike.
Members of the Rail, Maritime and Transport (RMT) Union have walked out for 48 hours over plans to close all ticket offices at a cost of 960 jobs.
Transport for London said 50% of services were running compared to about 40% during the last walkout.
The strike is due to end at 20:59 BST on Wednesday but disruption may continue into Thursday morning.
The union and London Underground (LU) have met more than 40 times through the arbitration service Acas since the last 48-hour strike in February, but talks broke down on Monday.
LU has said it plans to run as many services as possible, supplemented extra bus and river services, but customers are advised to check their journey before they travel.
Services running at the moment, all with a reduced frequency and with a number of stations closed, are:
Where services were being operated, trains began to run at about 07:00 and will finish at about 23:00. The last services from central London may also depart much earlier, at about 21:30.
TfL said about 87% of Oyster cards that would usually be seen on the network have been used and there were almost 8,000 buses on the roads - the most ever operated in London - after an extra 266 were put into service.
These included 40 vintage buses including the green AEC (Associated Equipment Company) Regent Mark III built in the 1950s.
And it said there has been a 70% increase in Barclays cycle hires.
TfL as a whole wants to save £4.2bn by 2020. The plans to close ticket offices are expected to save £50m a year.
The RMT said it would have suspended the strike if LU had agreed to a public consultation over the plans, which do not include any compulsory redundancies.
The acting general secretary of the RMT union, Mick Cash, described the strike as "solidly supported" and accused London Underground of backtracking on an earlier deal to review its plan to close ticket offices.
"They're looking to make £50m worth of cuts and to do that they want to get rid of every single booking office and 1,000 jobs," he told BBC Radio 4's Today programme.
"Now we took industrial action in February this year and we suspended it following a deal done with our former general secretary, Bob Crow, where they had promised to review every single station.
"And there are over 200 stations and, do you know, what we've done is five."
But the managing director of London Underground, Mike Brown, told Today: "We agreed that we would start by looking at the different station types, which group into five different types, and we'd look at those first.
"And now we're in the midst of doing the full station by station review starting with the Piccadilly Line.
"So I'm afraid what you've heard from Mick Cash is nonsense."
'Farcical'
Mayor of London Boris Johnson said the idea it was a solidly-supported strike was "farcical" and repeated there would be no compulsory redundancies.
He added: "This action is the result of a minority of just one union, the RMT, who are refusing to see the logic of what we are trying to achieve.
"We can't, as some would have us do, just stand by and force Londoners to pay for ticket offices.
"A resource which currently costs Londoners money, and where less than 3% of journeys begin, can be delivered better and far more efficiently with these changes."
Prime Minister David Cameron tweeted: "It's unacceptable that millions of people are having their lives disrupted by today's Tube strike in London."
The strike is likely to hit university students taking degree exams. On its website, King's College London says it is aware of students' concerns and will review the impact of strike action.
Employers' organisation the CBI said the strike was likely to have had a "limited impact on the wider economy".
Neil Carberry, director for employment and skills, said: "Employers make it possible for staff to work remotely.
"However, there will understandably be a significant impact on those businesses where that has simply not been possible."
The RMT is also holding a 48-hour strike which began at 03:00 on Tuesday on the Heathrow Express in a separate row over jobs, pay and cuts.
And football fans travelling to Chelsea's Champions League match with Atletico Madrid at 19:45 on Wednesday will also be affected.
The union is set to strike for 72 hours from 21:00 on Monday, 5 May if the ticket office dispute is not resolved.