Scorpion discovered on London Underground passenger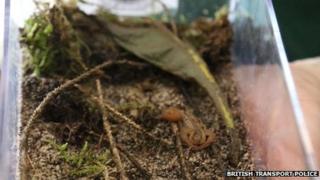 A potentially dangerous scorpion has been discovered clinging to a passenger's bag at a central London Tube station.
He screamed when he saw the unusual traveller at Victoria station, alerting London Underground staff.
The animal was captured and placed in a plastic lunchbox, before the British Transport Police (BTP) were called.
London Zoo said the discovery was bizarre and the animal had been exposed to a "stressful situation".
Specialist wildlife crime officers from the BTP removed the venomous animal, which had been placed on a shelf in the station manager's office.
PC Mike Charnick, from the BTP, said: "There is a surprisingly wide range of wildlife on and around the railway network but this is the first time I've come across a scorpion."
The officers took the scorpion to London Zoo, where it now lives.
After being assessed by experts at the Natural History Museum, the animal was identified as a Centruroides, a potentially dangerous species which could have come from the Caribbean.
Dave Clarke, bugs team leader at London Zoo, said: "It is bizarre that this species was found in somewhere like Victoria station.
"The scorpion really is a beautiful animal and it's a shame that it has been exposed to such a stressful situation."
The passenger who discovered the animal, on 6 April, told staff he been in the park all day and had not travelled abroad recently.
However, he did not leave his contact details so officers have not been able to work out where he picked up the creature.