Tube strike on despite RMT and LU coming close to a deal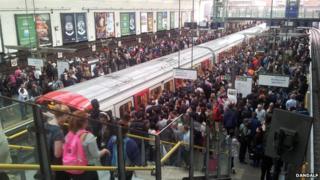 On Friday both sides in the Tube dispute looked drained and exhausted after eight hours of intense talks.
Whispers of a deal had been emerging and both sides admit they weren't far off a deal in the row over ticket offices.
The RMT Union says it would have suspended action if London Underground agreed to a consultation, re-instated the review of all ticket offices (outlined after the last strike) and the protection of all staff pay.
At 16:00 BST the RMT claimed LU said that for three weeks of talks, it would pause its implementation of the cuts.
For that to happen the RMT would have to end the entire dispute, not just suspend this strike.
The union would not consider that and at 18:00 the talks collapsed dramatically. Both sides walked out into the TV cameras.
Slim hope
Phil Hufton from LU said: "We have had well over 40 meetings, and came to Acas today to listen, make progress and bring an end to this dispute. The RMT leadership clearly did not.
"They have still offered no credible alternative proposals and are still demanding the wholesale cessation of all modernisation as the price for calling off their pointless strike next week.
"Despite our offer to continue talking, their interest seems to be in preserving the past and forcing London's fare and tax payers to foot the bill."
John Leach from the RMT said: "They have not taken up our offer to suspend the action if they suspend their implementation and they've spent eight hours talking about very little. Regrettably the strike is still on."
All of this is hampered by poor industrial relations - rooted in the ticket office dispute of 2010 - and what seems to be a severe lack of trust.
This is now an increasingly bitter and ugly dispute and commuters will be wondering where it will end. How long will RMT members hold out? How many days of disruption can LU handle? And more importantly what kind of dysfunctional split company will be left at the end?
Both sides seem to be indicating they are available for talks over the weekend, but it's a slim hope.