Minicab plea to use bus lanes during London Tube strike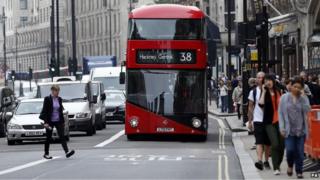 Transport for London (TFL) is being urged to allow minicabs to use bus lanes during the planned three-day tube strike to help cut road congestion.
RMT Union members will walk out at 21:00 BST on Monday over plans to close ticket offices and cut 960 jobs.
Justin Peters, chief executive of minicab app Kabbee, said opening up the bus lanes to licensed cars would enable people to get about more easily.
TFL said the move would disrupt crucial bus services and "made no sense".
'Simple solution'
Mr Peters said: "Why not let minicabs use bus lanes during strikes?
"We understand the need for industrial strike action in certain situations, but it's then up to Transport for London to help passengers get from A to B easily.
"Opening up the bus lanes to licensed minicabs during strikes would be a simple solution."
His firm's app allows people to book minicabs from 70 fleets across London.
In 2012 minicab operator Addison Lee lost its High Court legal challenge to allow its vehicles to use the London's bus lanes.
Leon Daniels, managing director of surface transport at TfL, said: "During the recent RMT strike the largest number of buses ever were deployed on London's streets, carrying around an extra million passengers and playing a crucial role in keeping London moving.
"To allow additional traffic to use our bus lanes, including private hire vehicles, would only cause disruption to these services which would make no sense at all."
The RMT and London Underground have met more than 40 times through Acas since a 48-hour strike was held in February.
On Friday both sides said they were close to a deal but the RMT says the talks fell through when LU demanded the whole dispute and not just the strike be called off.
Phil Hufton, LU's chief operating officer, said the union was "intent on inflicting" further disruption on Londoners.
TfL wants to cut £4.2bn by 2020. LU said closing all the ticket offices would save £50m a year.