Female genital mutilation: Woman arrested at Heathrow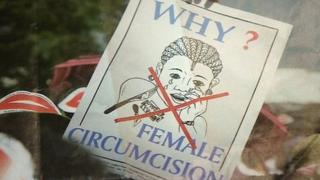 A woman has been arrested at Heathrow Airport on suspicion of conspiracy to commit female genital mutilation (FGM).
The 38-year-old was arrested at 18:30 BST on 8 May after she arrived at the west London airport on a flight from Sierra Leone.
A 13-year-old Sierra-Leonean girl travelling with the woman was taken into the care of social services.
The woman, who was born in Sierra Leone, is being held in custody at a west London police station.
Officers said the teenage girl was a relative of the arrested woman, but they were not disclosing how they were related.
A Nigerian woman, who officers believe could be a victim of trafficking, was also taken into the care of social services. Her age has not been established but she is believed to be about 18 or 19 years of age, police said.
An investigation has been launched by the Border Force into the suspected trafficking, which is not related to the FGM offences.
'Child abuse'
The arrests follow a week-long initiative by the Met Police, Border Force and National Crime Agency at Heathrow Airport aimed at preventing and detecting FGM.
Officers spoke to 36 people who had arrived on two flights from Nigeria and Liberia, via Sierra Leone.
The co-ordinated national week of action was in conjunction with six other UK airports and police forces: Essex, Avon and Somerset, Greater Manchester, West Yorkshire, Sussex and West Midlands.
The project also included educational activities, including training officers and staff at Heathrow to raise awareness of FGM and identify those who might be affected, as well as checks on passengers and baggage searches.
Mandatory medical examinations
Speaking at the airport this week, Met Police Commissioner Sir Bernard Hogan-Howe said mandatory medical examinations to identify FGM victims may have to be considered in the UK.
"We're not getting an awful lot of referrals from the community, from medical professionals or from educational professionals," he said.
"Of course, the victims could come forward eventually. But what we do know is that's quite difficult. If you have to report against your parents, that's obviously quite a challenge."
An estimated 66,000 women in the UK have undergone FGM and more than 20,000 girls under 15 are thought to be at risk of the practice.
There have been 190 FGM referrals to the Met since 2010 and 12 arrests have been made in relation to the referrals, Scotland Yard said.