Investigation under way after Tube train collision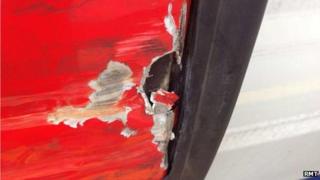 An investigation is under way after two of London Underground's (LU) new trains collided when the tracks moved.
The collision happened on the District Line between East Putney and Southfields stations and caused minor damage to carriages.
Manager Kevin Bootle said the two trains had been temporarily withdrawn from service during investigations.
A transport union said the incident highlighted "cuts to track inspections and maintenance."
'No issues found'
Mr Bootle, who is LU's District Line manager, said there were no injuries in the collision on 1 May, which was caused because of a "very slight movement of the tracks."
"The safety of our customers and staff is our top priority and we apologise for the limited disruption this may have caused," he said.
In a letter to staff he said: "LU engineers are now working to modify the track to ensure that this incident is not repeated.
"As a precaution other areas on the branch were checked with no other issues found."
Mick Cash, acting general secretary for the RMT union, said: "We share the sense of relief that no passengers or staff were injured as a result.
"However, the incident once again shines the spotlight on the cuts to track inspections and maintenance at LU."