Shammi Atwal lorry death: Six men guilty of manslaughter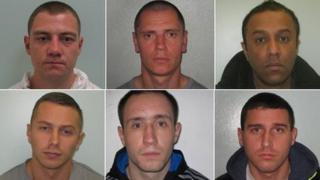 Six men have been found guilty of the manslaughter of a cash and carry owner who was hit by a lorry as he chased robbers from his store.
Shammi Atwal, 45, died outside Glen & Co Cash and Carry in River Road, Barking, east London, on 14 October.
Vidmantas Gorskoves, Aurimas Diliunas, Farhan Sheikh, Deibidas Sumskas, Reiniks Kivers and Edgaras Balezantis were found guilty of manslaughter.
The group was convicted at the Old Bailey and will be sentenced on 16 May.
Metal bars
The gang, armed with sledgehammers and metal bars, stormed into the store, charging at cashiers and demanding money, officers said.
Damanjeet Kaur, Mr Atwal's wife, was grabbed from her office and threatened with a metal rod before the gang stole her handbag.
Mr Atwal and other staff were working in portacabins behind the warehouse and heard screams from customers in the store.
Mr Atwal chased the men as they fled down River Road and managed to grab one robber, but during a struggle the cash and carry owner was pushed and fell into the path of a lorry which was unable to stop in time.
Evidence was unable to establish which individual pushed Mr Atwal, the Crown Prosecution Service said. He was pronounced dead at the scene.
Mrs Kaur said: "My life took a 360 degree turn. We have lost the children's father, my husband and it is very hard for me and the children.
"There are no words to express how we are feeling - we are just living. We miss him all the time and always will".
Gorskoves, 26, from Plaistow, Diliunas, 27, from Walthamstow, Sheikh, 39, from Islington, Sumskas, 25, from Canning Town, Kivers, 28, of no fixed abode, and Balezantis, 25, from East Ham, were also found guilty of conspiracy to commit robbery.
Det Ch Insp Neale Baldock said: "This was a violent robbery that went terribly wrong and resulted in Mr Atwal losing his life.
"He died whilst trying to defend his livelihood and these callous men have showed no remorse for their actions."