Abdelkhalak Lahyani named as cyclist killed in HGV Elephant and Castle crash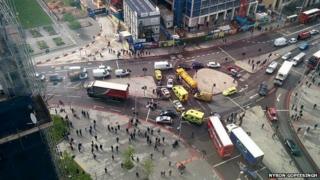 A cyclist who died in a crash with an HGV in south-east London has been named by Scotland Yard.
Abdelkhalak Lahyani, 47, from Walworth, was involved in the collision at the Elephant and Castle junction with Newington Butts on 13 May.
The cyclist suffered serious injuries and died at the scene.
The 49-year-old driver of the HGV was arrested on suspicion of causing death by careless driving and has been released on bail.