Imran Farooq murder: Police appeal for information on two men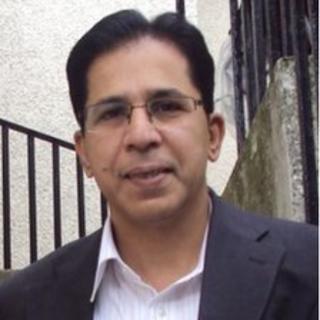 Police investigating the murder of Pakistani politician Dr Imran Farooq have named two men they would like to speak to in connection with his murder.
The 50-year-old was attacked outside his home in Green Lane, Edgware, on 16 September 2010. He died from stab wounds and blunt trauma to the head.
The Met Police said they would like to speak to Moshin Ali Syed, 29, and Muhammad Kashif Khan Kamran, 34.
Officers are appealing for anyone who knew the men to contact them.
Political asylum
Mr Syed, a Pakistani national, was in the UK between February 2010 and 16 September 2010, while Mr Kamran, also a Pakistani national, was in the UK between early September 2010 and 16 September 2010.
Officers know that the men entered the UK on student visas and were registered to study at a college in east London.
The pair lived in the Stanmore area before Dr Farooq's murder and left the UK on the evening of the killing.
Police said they have followed up more than 2,000 lines of inquiry in the case and detectives from the Metropolitan Police Counter Terrorism Command (SO15) also reviewed more than 6,000 documents.
Dr Farooq, who was a senior member of the MQM party, came to London in 1999 seeking political asylum.
A kitchen knife and a brick used in the attack were recovered from the scene, police said.
In a statement, the Met Police said: "Dr Farooq's murder would have required careful planning and help from other people, some of whom may have provided assistance or information unwittingly."
The two men are believed to be in Pakistan and officers are in contact with the Pakistani authorities, police said.
A 52-year-old man arrested in June 2013, on suspicion of conspiracy to murder, has been bailed pending further enquiries.