Teacher Paul Cannon jailed for sex offences against 40 victims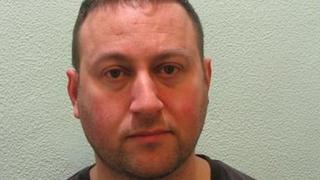 A former primary school teacher has been jailed for historical sex offences against 40 child victims over a decade.
Paul Cannon, 40, of Coulsdon, south London, was charged in January after a woman came forward to report an offence that took place 13 years ago.
Cannon admitted to 51 offences, ranging from exposing himself, making indecent images to sexually assaulting victims. Only one of his victims was a pupil.
He was jailed for four years at Croydon Crown Court.
Cannon worked as a full-time teacher, and from 2006 as a supply teacher, at various primary schools in Surrey and Sussex.
'Terror and fear'
Judge Glen Brasse said: "Your behaviour was every parent's nightmare. That their child goes out and he/she might be sexually assaulted.
"The harm to the children was all too easy to imagine - they must have felt terror and fear.
"You targeted a very young age group of children - as young as six years old. This was very serious predatory behaviour."
In 2012, the victim came forward prompted by the publicity around Jimmy Savile's victims.
The 24-year-old woman reported that a man called "Paul" took indecent photos of her 13 years previously.
Cannon was ultimately identified as being responsible for offences against at least 40 victims in south London between 1999 and 2009.
His victims were aged between six and 13, both girls and boys.
With the exception of one, all his other victims were randomly chosen in parks and other open spaces in the Sutton, Carshalton and Merton areas, during school holidays or weekends.
His victims recalled he often wore sunglasses and rode a mountain bike.
'Will never forgive him'
His youngest victim was a six-year-old girl whom he took pictures of in her underwear, while an eight-year-old girl with learning difficulties was approached by Cannon from behind while she was out walking her dog, the court heard.
In a victim impact statement read out to the court by prosecutor Anthony Heaton-Armstrong, the eight-year-old girl's mother said she changed from being an "independent kid" to one who was "very clingy".
In another statement, a woman who was attacked in 2001 at the age of nine, said she feels "worried, frightened and unhappy - I have good days and bad days".
"I will never forgive him for what he put me through and what he still puts me through now," she added.
The Metropolitan Police investigated and eventually arrested Cannon at his home in Coulsdon in March 2013. His DNA was matched with the National DNA database from previous victim reports.
Officers found more than 4,000 indecent photos and videos of children, ranging from level 1 to 5, stored on his computer.
Further images were also found by police of children in parks and swimming pool changing rooms.