World War One: Soldiers helped at Wandsworth 'Tin Noses Shop'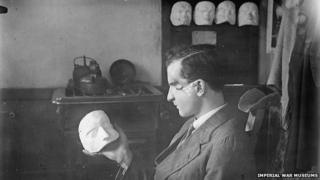 Hundreds of young men who fought during the First World War bore the scars for years.
An estimated 60,500 British soldiers suffered head or eye injuries and, according to American surgeon Fred Albee, quoted in the Smithsonian Magazine, one reason was that the soldiers failed to fathom the speed of machine guns and would "pop their heads up over a trench" thinking they could dodge the bullets.
A specialist hospital for facial injuries in Frognal near Sidcup, south-east London, carried out 11,000 operations on 5,000 patients between 1917 and 1925, an article by Dr Suzannah Biernoff, a History of Art lecturer at Birkbeck College who studied the Rhetoric of Disfigurement, said.
But faced with protracted reconstruction surgery, many men isolated themselves from the world and their families.
That is where the Masks for Facial Disfigurement Department or the Tin Noses Shop, as it became known among servicemen, offered some hope.
Recreating original appearance
Sculptor Francis Derwent Wood mooted the idea of portrait masks after joining the Royal Army Medical Corps in April 1915 as an orderly at the 3rd London General Hospital in Wandsworth, south London, along with several members of the Chelsea Arts Club.
Dr Biernoff said: "He initially revolutionised the plaster and splints department and then persuaded the hospital's Commanding Officer, Lieutenant Colonel H. Bruce Porter, to support his idea to make painted metal masks for some of the severely disfigured servicemen."
A year later he was out recruiting patients from other military hospitals.
"His aim was to meticulously recreate the patient's original appearance, both from their surviving features but also from pre-injury photographs, photographs that were often given as a keepsake to a wife or a sweetheart."
The studio employed three sculptors, a casting specialist and a plaster mould-maker.
In a 1917 edition of The Lancet, Wood said: "My work begins where the work of the surgeon is completed.
"When the surgeon has done all he can to restore functions… I endeavour by means of the skill I happen to possess as a sculptor to make a man's face as near as possible to what it looked like before he was wounded."
The mask-making process began with a plaster cast of the face and then a clay or plasticine squeeze would be taken to reflect the healed face and missing features - like a cheek, eye socket, nose or jaw - would be cast.
A copper mask, 1/32in thick, was created from the final cast, which was coated in silver and painted - usually a cream-coloured spirit enamel to match Caucasian skin, and topped with varnish to give a complexion.
Wood would then match the contours of the face, the pigmentation and texture of the patient's skin and if an eye was missing he would either paint on the reverse of a glass blank or directly on to the plate.
Dr Biernoff said: "Derwent Wood has not used real hair for the eyebrows or the eyelashes, but instead what he has done is painted the individual hairs of the eyebrows on to the plates... they looked like real eyebrows.
"What he has done for the eyelashes is he has used very, very thin metallic foil which he cut into fine strips, and then tinted and curl and soldered into place".
Sometimes the final touches were added with the patient wearing the mask, held in place by ribbons or spectacles.
But the masks were not very comfortable.
James Partridge, chief executive of Changing Faces, a charity supporting people with disfigurement, said the men had a "love-hate relationship with the masks, because it reminded them of their lost looks".
"They could circulate with their masks on and get absolutely no reactions from those they met... as long as they didn't speak. As soon as they spoke, of course the mask was no longer there and they had to reveal themselves.
"The mask as an artistic process must have been an agonising one for those men to go through," he added.
'Buried with patients'
Wood's work became known by 1917 and similar work was undertaken in Paris by American sculptor Anna Coleman Ladd, where she created 185 masks by the end of 1919.
Wood's department in London was disbanded in 1919, but it is not known how many masks he created.
Dr Biernoff said: "Very, very few of the masks have survived and none of the surviving masks were made at the 3rd London General Hospital.
"So we don't know whether the patients discarded the masks because they were uncomfortable, whether they didn't like wearing them, whether they were worn temporarily possibly between surgeries, because of course these were patients who would usually have several operations often over several years.
"It's possible as well that the masks were kept and buried with their owners so this will probably remain a mystery".