Heathrow Express workers plan third strike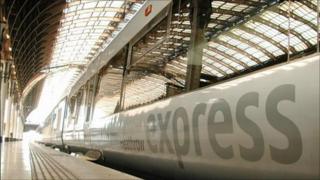 Rail workers on the Heathrow Express service are to stage a third strike in a row over cuts.
Members of the Rail, Maritime and Transport (RMT) union will walk out for 24-hours from 03:00 BST on 4 June.
The RMT claims plans to save £6m over five years would threaten 200 jobs and affect safety.
A Heathrow Express spokesman said it ran a good service during the other walkouts and will do so again.
'Bogus claims'
RMT acting general secretary Mick Cash said: "Despite the bogus claims from the company, the fact is that the previous two phases of strike action were solidly supported by the staff and the service was reduced down to a skeleton operated by scab managers, with limited training, while Heathrow Connect was closed entirely."
He added: "The planned axing of jobs, and the associated freezing and hacking back of pay and working conditions, is a kick in the teeth for the staff who have made Heathrow Express and Heathrow Connect the success story that they are today."
Keith Greenfield, managing director of Heathrow Express, said: "We have asked the RMT to suspend their action to allow constructive talks at Acas but instead the union's leadership has decided to strike yet again - despite our making clear repeatedly that strikes are self-defeating, leading ultimately to a worse outcome, not a better one, for their members.
"That is because each strike adds to the £6m of cost Heathrow Express needs to save over the next five years in order to secure our future and jobs for our people."
The Heathrow Express service connects the west London airport to London Paddington Station.