Friend of Lee Rigby's killer jailed over terror charges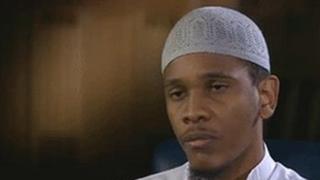 Two men, including a friend of one of the killers of Fusilier Lee Rigby, have been jailed for encouraging terrorism and disseminating terrorist material.
Ibrahim Hassan, 28, also known as Abu Nusaybah, and Shah Jalal Hussain, 31, were both jailed for three years.
Hassan, of Walthamstow, and Hussain, of Whitechapel, had pleaded guilty to the charges at the Old Bailey in March.
Hassan, a father of two, was arrested after he gave an interview to the BBC's Newsnight in May last year.
'Playing with fire'
During the programme, he claimed Michael Adebolajo, who killed Lee Rigby in Woolwich, was tortured in Kenya and had been offered a job by MI5.
Adebolajo was handed a whole-life sentence with no chance of parole for the murder.
The charge of disseminating a terrorist publication, which both admitted, related to an audio file of a speech called The Dust Will Never Settle by the deceased radical cleric Anwar al-Awlaki.
The court heard Hassan, of Carr Road, and Hussain, of Cannon Street Road, had previously been involved with the now-banned Islamic extremist group al-Muhajiroun, led by Anjem Choudary, and ran a website that posted lectures, articles and videos by radical clerics including Abu Hamza and Abu Qatada.
Sentencing the pair, Common Sergeant of London Nicholas Hilliard QC said: "You each have a relevant previous conviction. This is the second time that each of you have been before a court for an offence before the Terrorism Act - that increases the gravity of this.
"I am sure that both of you knew that you were playing with fire."
Previous convictions
The men were previously convicted in 2008 after delivering speeches at the Regent's Park Mosque in London in which they encouraged terrorist activity abroad.
On Friday, Hassan was also sentenced to three years, to run concurrently, after he admitted encouragement of terrorism on or before 24 May last year relating to five audio files of lectures entitled In Pursuit Of Allah's Governance On Earth.
Hussain was also sentenced to 28 months, to run concurrently, after pleading guilty to the encouragement of terrorism relating to a video lecture entitled Signs Of A Good Death In Islam published on or before 5 June last year.
Hassan, also has previous convictions for robbery in 2001, religiously aggravated harassment in 2005 and two counts of assaulting a police officer in 2007 while Hussain, was previously convicted of possessing an offensive weapon.