Queen's Baton Relay: Olympic Park crowds follow baton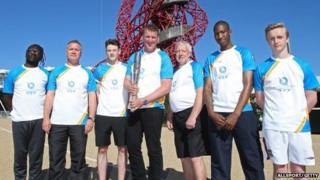 Like modern-day pied pipers, where the Queen's baton bearers led, scores followed on a glorious Sunday at the Queen Elizabeth Olympic Park.
Children and adults gathered around the community heroes chosen for the task as they came to a halt, eager to be pictured alongside the titanium baton in the massive east London park.
At one point, a town crier announced its departure from the Copper Box multi-sport arena, before the procession set off to the sound of a marching band, attracting hordes of bystanders to join in the march.
Four-time Olympic rowing champion Sir Matthew Pinsent started the day's proceedings by abseiling down the 114.5m (376ft) high Orbit Tower sculpture, holding the baton.
"You had to trust in the equipment and trust in the nice chap at the top," he said.
"This is a once-in-a-lifetime opportunity; you're never going to abseil down the Orbit again."
Olympian Jade Johnson, a Commonwealth silver medallist in the long jump, said the Commonwealth Games had a special place in her heart.
"It was the first major championship I attempted and won a medal in - in Manchester in 2002," she said.
"It's really nice to be here at the Olympic Park, to see so many people being active and having fun."
She said the buzz of the London 2012 Olympics still remained with the public.
"For the baton to go around the venue - it starts to bring it on board," she added.
"I think we've got to keep the momentum going."
Six community heroes from six boroughs in east London were nominated as baton bearers.
One of them, Chris Zah, said what is now the Olympic Park was his playground when growing up in Tower Hamlets.
Back then it was barren area with a few football pitches, a world away from today's state-of-the art sporting facilities.
Mr Zah has been coaching athletics for more than 10 years, and acts as a mentor to other coaches.
"It's lovely to be recognised for the work that I do," he said.
"I really appreciate it. I'm really chuffed to be here."