Teenagers die in party balcony fall in Deptford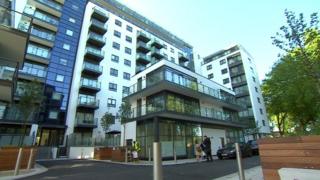 Two teenagers have died after falling from a sixth floor balcony at a party in south-east London.
The 18-year-old man and 19-year-old woman were pronounced dead at the scene in Knights Tower in Wharf Street, Deptford, just after midnight.
Insp Shaun Carre-Brown described the deaths as "tragic accidents" which were not being treated as suspicious.
Police said the students were at a party and urged any witnesses to come forward.
'Really dangerous stuff'
A resident who lives in a building opposite Knights Tower said he saw a couple "frolicking" on the balcony.
He said: "The occupants were inside, these two were on the balcony. We were shutting our blinds when we saw a couple on their balcony frolicking.
He said less than 10 minutes later he heard a "bang". His partner said: "We thought someone had been shot."
Samson Oguntayo, 32, who lives in the neighbouring Cornmill House, said he and his partner had seen the couple fall.
He said he thought they "were trying to have sex on the balcony".
"The guy was lifting the girl and putting her on the banister," he said.
"You could see they were doing some really dangerous stuff."
"The last thing I expected was to see them falling down.
"We just screamed."
Det Ch Supt Helen Millichap said: "We believe this was a tragic accident involving two young people who were students attending a local college.
"We will work closely with the college to make sure any affected students receive information and support.
"Our thoughts are with the family and friends of these young people."