Prime Minister David Cameron supports water cannon purchase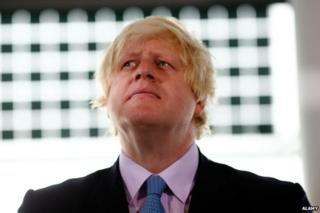 The use of water cannon on the streets of Britain has been backed by the prime minister.
A Number 10 spokesman said David Cameron believed the police should have the resources they wanted.
On Tuesday, it emerged London Mayor Boris Johnson authorised the Metropolitan Police to buy three cannon for £218,000.
The water cannon will not be deployed until the home secretary authorises their use in England and Wales.
A Number 10 spokesman said the prime minister supported the decision in principle.
Stand in front
Number 10 said there was still "a process of licensing and regulation to be completed and a final decision will be taken by the home secretary".
Speaking at Mayor's Question Time at city Hall, Mr Johnson said: "My view is we need to get on and equip the police with the water cannon they need, or might need."
Talking on LBC radio earlier, he said: "I'm entirely prepared to do anything to show that they're safe within reason.
"I'm not quite sure whether I want to stand in front of a water cannon....[but] if it will really make you happy I will investigate the whys and wherefores whether I can stand in front of a water cannon.
"I suppose I'm going to have to do it now."
In a statement, the mayor's office said purchasing the cannon now for just over £218,000, before Theresa May approves them, meant they could be bought at a "considerably reduced rate".
The cannon will be purchased for £30,000 each plus an additional £127,000 for them to be made "fit for purpose" for use in London, as opposed to the cost of a single new one at £870,000.
Mr Johnson said: "I think it's highly likely approval will be granted and the problem was if we waited we would have missed the window to buy them for the very good price that we've got."