Nick Clegg: Water cannon use 'against policing by consent'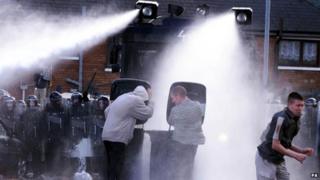 Deputy Prime Minister Nick Clegg has said using water cannon "rubs up against the long tradition of policing by consent on London's streets".
It was "fanciful" to think cannon could have helped during the riots, he added.
The comments come after Mayor Boris Johnson gave the Met Police approval to buy three devices from Germany.
Prime Minister David Cameron has backed the purchase but Home Secretary Theresa May said health and safety implications of the cannon needed to be considered.
Earlier this week it emerged the mayor had authorised the purchase of three second-hand water cannon from the German Federal Police for £218,000.
The devices cannot be deployed unless the home secretary authorises their use in England and Wales, but on Wednesday a Number 10 spokesman said, in principle, the prime minister supported the decision to buy the equipment.
Speaking on his phone-in show on LBC, the leader of the Liberal Democrats said: "My own personal view is that I do not think that second-hand water cannons bought at great expense from Germany are the answer to policing the streets of London.
"All of this comes from lots of understandable soul-searching after the riots about what more powers or equipment we need to give the police to deal with something like that.
"The idea that in the riots, where people are scurrying down small streets smashing windows and then rushing off - small groups moving around in a very fluid situation - the idea that great big lumbering second-hand German water cannon is somehow going to be wheeled out and sort it out is, I think, fanciful.
"I personally think it also rubs up against the long tradition of policing by consent on London's streets. I think it creates a kind of embattled sense of how the police work, which I don't think is in keeping with our long policing traditions."
On Wednesday the mayor told the radio station he was prepared to be blasted by water cannon to test whether they were safe to use, following Mrs May's comments.
Mr Clegg declined to join Mr Johnson but told the radio station: "I'm looking forward to the consumer test."