Croydon rave: Police release images of seven men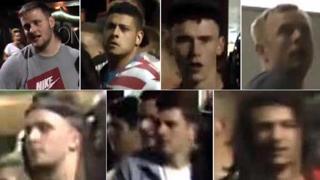 Police have released photographs of seven men they want to speak to in connection with an illegal rave, after which a teenager died.
Rio Andrew, 15, died after falling ill at the party which took place in Croydon, south London, on Saturday.
About 1,300 people went to the event at a disused postal sorting office.
The Met Police believes Rio's death was drug-related but officers do not believe the men were involved with his death.
The window of a police van was smashed and missiles thrown at officers during the party on Cherry Orchard Road in East Croydon.
The force has begun an inquiry into the handling of intelligence about the party after information was received but not acted upon.
In a statement, the Met Police said: "We received a single piece of intelligence on 5 June to suggest that an event may take place at the location on 14 June, although no time was indicated when this would take place.
"The information was reviewed by a local intelligence officer, but no further action was taken."
Rio, from Notting Hill, west London, died on Monday after falling ill on Sunday.
He attended Holland Park School which said: "Rio was an able scholar, destined for academic success.
"He was also an exceptional sportsman and due to be awarded a prestigious sports award."
A 19-year-old man, who was also taken ill at the event, remains in hospital in a stable condition. Six other people who were taken to hospital have been discharged.
Fourteen people have been arrested in connection with the rave, nine during the event itself.
Police also made five arrests for handling stolen goods and criminal damage offences in connection with the investigation. All remain in custody.
Two men have been charged with violent disorder and drugs offences. Two men aged 30 and 47 were cautioned for possessing class A drugs.
Three men were arrested on suspicion of money laundering, a 17-year-old was arrested on suspicion of violent disorder and a 22-year-old man was arrested on suspicion of criminal damage.
All five have been released on bail pending further inquiries.