Tottenham Hotspur fans to continue using 'yid' chant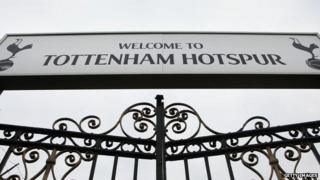 Spurs fans have vowed to carry on chanting the word "yid" despite risking arrest when they do, a supporters group says.
Tottenham Hotspur Supporters Trust (THST) were told fans could be arrested if a formal complaint was made.
The Met told them there was a clear difference between songs about gas chambers directed at Spurs fans and their own supporters using the word.
The word means Jew in Yiddish and is not deemed offensive in itself.
Chants of "Yids", "Yid Army" and "Yiddos" are regularly heard in the home stands at White Hart Lane.
Tottenham have a strong Jewish following and have been on the receiving end of anti-Semitic abuse from opposition fans.
'Badge of honour'
Last season, eight people were arrested at the north London club for racially aggravated offences; three of which were for using the term yid.
THST secretary Katrina Law said last season fans were told that they would be arrested just for using the word, whereas now the position seems to be that there has to be a formal complaint.
"Now hopefully Spurs fans can still support their team and use the word," she said.
"We do not believe that any Spurs fan is using the term in a malicious way. We are using it as a badge of honour and as a call to arms.
"We recognise that the term can cause offence to the Jewish community and we are mindful of that.
"Our position, as always, is that we should not be arrested for using that term."
The Football Association has warned supporters that use of such words could result in a banning order or even criminal prosecution.