Sean Rigg death: Watchdog serves notice of new probe to officers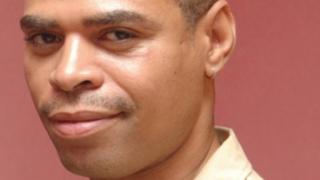 The Independent Police Complaints Commission (IPCC) has served notices of investigation on five officers in connection with a death in custody.
The notice is for a new inquiry by the watchdog into the events up to the death of Sean Rigg at Brixton Police station, south London, in August 2008.
The officers who have been contacted were "involved in the arrest, restraint and detention" of the 40-year-old.
Senior arresting officer PC Andrew Birks is among them, the IPCC said.
PC Birks was due to resign from the Metropolitan Police on 1 June but the force reversed its decision to allow him to quit after the IPCC urged the Met to allow a notice of investigation to be served. The officer was suspended last month.
'I want justice'
Mr Rigg's sister, Marcia, told BBC London 94.9: "We are really pleased that the investigation is now progressing and under way and that finally after a long delay the IPCC has now served notices on the officers."
Mr Rigg, who had schizophrenia, died after being restrained following an attack on a man in Balham. He had suffered a cardiac arrest.
The IPCC's original investigation into the death in 2010 found there was no case to answer and no disciplinary action was recommended but an inquest into Mr Rigg's death in 2012 concluded that officers had used "unsuitable force".
Following the inquest, the watchdog decided to review the evidence heard to see whether there was "potential misconduct".
The IPCC said it was reopening its investigation in December 2013 and on 13 May this year, the Administrative Court quashed the findings of the original investigation, clearing the way to serve notices of investigation.
In a statement the watchdog said: "IPCC investigators have now served notices of investigation on five officers involved in the arrest, restraint and detention of Sean Rigg.
"Arrangements are being made to interview the officers under criminal and misconduct caution."
The inquest into her brother's death gave a "damning verdict", Ms Rigg said, adding: "I have looked at the documents myself and I am convinced there is some wrong-doing.
"I want to know what exactly happened. I want to know the truth, I want to make a difference for other families.
"Sean is not going to come back, he is already dead, but I want justice."