Reward offer after man shot in head in Tulse Hill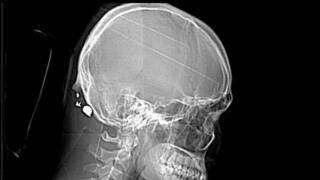 Nine months after a man was shot in the head as he walked to his south London home, a reward has been offered for information leading to the gunman.
The Chinese national, who has not been named, was shot in September in Tulse Hill in what the Met Police has called a completely unprovoked attack.
A bullet remains lodged in the 28-year-old victim's skull.
A £20,000 reward has been offered to find the gunman, who is described as black and about 5ft 7in tall.
He is said to be in his late teens or early 20s, and at the time of the shooting, at midnight on 21 September, he was wearing a black hooded top - zipped up to the nose, with the hood up - along with black jeans.
Witness protection
After the victim was shot outside Fairview House on the Roupel Estate, he made his way home before being taken to hospital where he was released after three days.
Police say they have followed several lines of inquiry but have been unable to identify the gunman. Nothing was taken during the attack, leading them to believe robbery was not the motive.
Det Ch Insp Jason Prins, of Trident Gang Crime Command, said: "Understandably, he and his family are very distressed by this apparently motiveless and senseless attack.
"The gun used in the attack was some form of self-loading pistol which was shot at very close range.
"I would like to reassure any potential witnesses who may be worried about making contact with police that Trident has extensive expertise in protecting witnesses and there are a range of measures that can be taken to protect you."