Quietways and the long road to change for cyclists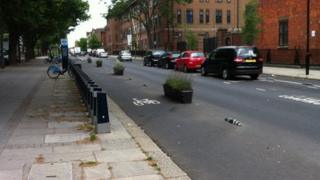 So far we have not seen big changes for cyclists, but in the next few months we might start to. It is hoped that it will all begin at Vauxhall with segregated lanes and junctions.
Away from the main roads, London's Cycling Commissioner Andrew Gilligan has also been working on "quietways", which will be on side streets with less traffic.
They usually have bollards in some sections so cyclists can go through, but cars and vans can not - planners call it "permeability".
What they are being billed as is an enhanced London Cycle Network, which incidentally the mayor once cut the funding for.
Avoiding busy traffic
I took a tour of the route from Waterloo down to Millwall and it is certainly much more appealing than the Old Kent Road.
Mr Gilligan thinks he can introduce a bike route on quieter side streets for up to £3m compared to at least £10m for a cycle superhighway.
The quietways are aimed at the less confident cyclist who wants to avoid busy traffic and the planners are looking for obstacles along these routes.
So, at Millwall they are looking to put the track along the football stadium's visitors' supporters alleyway and then onto the side of a railway track.
Councils like Camden have already started making side streets more attractive ( see main photo), the flagship being Royal College Street where they use low impact "armadillos" and planters to separate traffic and improve the feel of the place.
Interestingly, the routes of the cycle superhighways not yet built are back on the drawing board, meaning we could also see big changes to existing plans.
There are indications that the routes may be taken away from the really busy roads, which could annoy cyclists who prefer the most direct routes.
High number of consultations
What is clear is there is not much left cycling-wise from the mayor's first term that is now not being revised or redrawn. Schemes that were once cut, like the London Cycle Network, are now being revisited and in part redone.
The cycling campaigners I speak to all talk about how slow the progress is in making London's roads safer.
Mr Gilligan says he understands the frustration but the roads are for lots of groups and their suggestions have to be taken into account - hence the high number of consultations.
There are still bound to be challenges ahead and concerns from other road user groups about loss of capacity to cycling.
And these changes - if and when they happen - will come under intense scrutiny. The cycling campaigners feel they have been waiting long enough.