Metropolitan Police buys first water cannon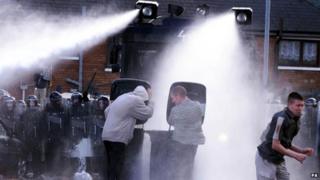 Contracts for the purchase of water cannon by the Metropolitan Police have been exchanged, London's deputy mayor for policing has confirmed.
Stephen Greenhalgh confirmed the mayor's office for policing and crime has paid £216,000 for the three machines from Germany's federal police.
The water cannon will not be deployed until the home secretary authorises their use in England and Wales.
A Home Office spokesman said a decision would be taken in due course.
At the Police and Crime Committee at the Greater London Authority, members of the London Assembly questioned why London was buying equipment which the German police now viewed as defunct.
Deputy Mayor for Policing Stephen Greenhalgh said the machines were "perfectly adequate", had gone through safety checks and were value for money.
Earlier this month, London Mayor Boris Johnson gave the force the go-ahead to buy the second-hand machines.
The mayor's office said purchasing the cannon now before Theresa May approves them, meant they could be bought at a "considerably reduced rate".
A Home Office spokesman said the use of water cannon in England and Wales was "still being considered" by Home Secretary Theresa May and "a decision will be taken in due course".