Man stabbed to death in Willesden area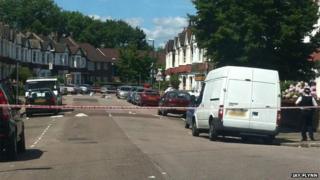 A man has been stabbed to death in north-west London.
The Metropolitan Police said officers were called at 01:10 BST and found the man, believed to 19 years old, with stab wounds in Drayton Road, in the Willesden area.
He was taken to hospital but died about two hours later. The victim is yet to be formally identified.
No arrests have been made and police said they were keeping an "open mind" about the motive.
'Foam party' injuries
In a separate incident, two men were found with injuries outside a club in Abbey Road in the Harlesden area of north-west London just after 03:00 where a foam party was taking place.
One man, 22, suffered a gunshot wound to the leg while the second victim, also aged 22, had injuries to the head. None of their injuries were life-threatening, police said.
Officers believe the men were at the party and at the time of the incident several people had run out onto the street after a foam machine malfunctioned.