Brixton 1985 police gun victim Cherry Groce inquest begins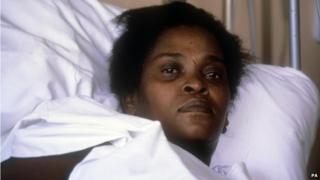 The son of a woman who was shot by armed officers during a police raid 29 years ago, has told an inquest jury how he was left "confused, shocked and traumatised" by the incident.
Cherry Groce was paralysed below the waist when she was accidentally shot by police seeking her son, Michael, during a raid on her home in 1985. She died in 2011.
Lee Lawrence, 39, gave Southwark Coroner's Court his account earlier.
The inquest is listed for eight days.
'Serious deficiencies'
Assistant Coroner Lorna Tagliavini told the jury a pathologist had found Mrs Groce's injuries had rendered her paraplegic and had contributed to her death many years later.
Mr Lawrence and four other children were in Mrs Groce's property in Brixton, south London, when it was raided in the early hours of 28 September, 1985.
He said he was sleeping in his mother's room when the front door was forced open.
"I opened my eyes, saw a police officer holding a gun in his hand. My mother was on the floor and the officer was the pointing the gun at her neck," Mr Lawrence said.
"I heard her saying she could not feel her legs, she could not breathe and saying she was going to die."
The armed raid had "serious deficiencies", the inquest was told.
The conclusion was from a 357-page report at the time by Assistant Chief Constable West Yorkshire police John Domaille.
The jury heard there was a lack of information about the layout of the property and details about who was in there before the armed operation.
'Not reasonable'
Dexter Dias QC, for the Groce family, noted from the report: "The decision made to continue the operation was not reasonable.
"Grave risks were created both for the police and the public and these risks should have been avoided."
A major review of Metropolitan Police gun policy after the shooting led to a ban on CID detectives carrying firearms.
Michael Groce was wanted in connection with an armed robbery, but was never charged over that or the subsequent riot.
Insp Douglas Lovelock, the marksman who shot Mrs Groce, stood trial in 1987 charged with inflicting unlawful and malicious grievous bodily harm, and was acquitted.
The inquest is expected to call more than 40 witnesses.