Cherry Groce inquest: 1985 shooting 'caused death in 2011'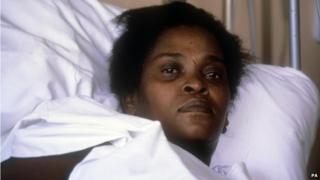 A woman who was shot by police in 1985, sparking the Brixton riots, died 26 years later as a result of the bullet wound, an inquest has heard.
Dorothy "Cherry" Groce was shot in the shoulder by police looking for her son and paralysed from the waist down. She died of kidney failure in 2011.
At Southwark Coroner's Court Dr Robert Chapman said her death could be directly traced back to the shooting.
No charges were ever brought against her son.
The court heard that the mother of eight became more susceptible to a host of debilitating illnesses as a result of the injury.
Metal 'lodged in spine'
Pathologist Dr Chapman said during a post-mortem examination he found small metal fragments from the bullet still lodged in the base of her spine.
He said: "She had a history of diabetes. There was clinical evidence of sepsis and acute renal failure and some evidence of bronchial pneumonia.
"All of these conditions, with the exception of diabetes, all related directly from the previous injuries - that is the traumatic paraplegia."
Pressed by Dexter Dias QC, representing the Groce family, whether the "cause of death goes back to the shooting", Dr Chapman replied: "Yes."
The officer who shot Mrs Groce stood trial in 1987 charged with inflicting unlawful and malicious grievous bodily harm, and was acquitted.
The inquest continues.