Met discrimination case-winning officer suspended since April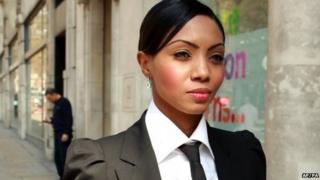 A firearms officer at the centre of a sex and race discrimination case was suspended from duty in April.
The Met and Sussex police forces said Carol Howard was held on suspicion of offences in 2013 and 2014 including suspected assault and harassment.
An employment tribunal found Ms Howard, 35 and from Surrey, was "singled out and targeted" for nearly a year.
It also found the Met had told staff to delete records on sex and race discrimination against her.
'Ongoing investigations'
Sussex Police said Ms Howard from Coulsdon, was arrested in August 2013 on suspicion of assault, harassment and making threats to damage property in Crawley, West Sussex.
Following this arrest she was placed on restricted duties, said the Met.
The Met arrested her again in April this year on suspicion of assault following an incident in Sutton and she remains on bail in relation to this incident, said the force.
Sussex Police said Ms Howard was also arrested on suspicion of perverting the course of justice, witness intimidation and possession of an indecent image of a child under 16.
The force said it was taking no further action about the allegation of assault in Crawley, and that she has been re-bailed to answer further questions about other allegations until 2 August.
The Met said Ms Howard was suspended from duty on 30 April "following her arrest as part of ongoing criminal investigations".
'Directly discriminated'
Ms Howard's lawyer, Kiran Daurka from Slater & Gordon, said that following the employment tribunal's findings, the information now released by the Met "can be seen as victimisation against our client by the Met".
"We are considering the position and will be advising our client as to any further legal action," she said.
Ms Howard brought a claim of discrimination at the Central London Employment Tribunal earlier this year.
A judgement issued by the panel which heard the case said the Met "directly discriminated" against her "on the grounds of sex and race" between 31 January and 29 October 2012.
A number of Ms Howard's complaints of "victimisation" were "well-founded", the tribunal added.
The force said it concluded there was no evidence "without having conducted a proper investigation".