7/7 memorial in Hyde Park vandalised on eve of commemorations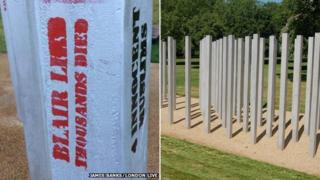 The 7/7 memorial in Hyde Park has been defaced with graffiti on the eve of commemorations of the London bomb attack nine years ago.
Several of the pillars in the memorial were daubed in black and red paint, depicting phrases including "Blair lied thousands died" and "4 innocent Muslims".
Police were called by a member of the public just before 03:30 BST on Monday.
The graffiti has been cleaned off but is being treated as criminal damage.
John Falding, whose partner Anat Rosenberg, a 39-year-old charity worker, was killed in the bombing of a bus in Tavistock Square, condemned the vandalism.
He said: "It is quite shocking, whoever did it was aiming for publicity and to cause maximum grief."
Flowers were later laid at the 7/7 memorial during a commemoration service, when a choir sang Something Inside so Strong.
Downing Street said the prime minister had sent a floral tribute to the memorial and a wreath was also presented on behalf of London Mayor Boris Johnson.
Responding to reports that the memorial had been defaced, a spokesman for the prime minister said he would "condemn it unreservedly".
The permanent memorial comprises 52 stainless steel pillars, representing the victims of the London bomb attack which took place on 7 July 2005.