Mark Duggan's family start legal challenge at High Court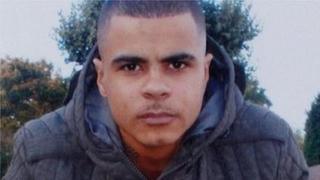 The family of Mark Duggan, who was shot dead by police in north London in 2011, have started a legal challenge to have an inquest jury's verdict of lawful killing quashed.
Lawyers for the family have argued that legal directions given by the coroner were unlawful.
His relatives claim the verdict should be replaced with an "open" conclusion or an order for a fresh inquest.
The hearing at the High Court is due to take two days.
As part of their challenge, the family will argue that the coroner should have directed the jury that they could not return a lawful killing conclusion if they were sure Mr Duggan was not holding a gun.
Mr Duggan's mother, Pamela, his aunt Carole and other relatives were in court as the hearing began.
Lord Justice Leveson is leading a panel of three judges to review the case, but he warned the family it was "almost impossible" there would be a ruling in the case before the summer break.
Mr Duggan, 29, was shot in Tottenham.
His death led to rioting in the capital which was replicated in towns and cities across England.